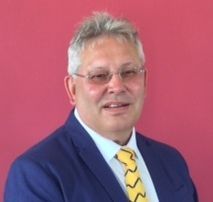 Award-winning Debbie Fortune Estate Agents are delighted to welcome Mike Coles to their business as a marketing executive.
Mike, who lives with his wife Joy in Worle, Weston-super-Mare has previously been with Archant as their property manager for South West England, working on a number of newspapers and magazines having started as an apprentice in hot metal printing with WB Frampton & Sons, owners of the Weston & Somerset Mercury, over 44 years ago.
Mike is looking forward to this new role with Debbie Fortune Estate Agents, bringing his enthusiasm and experience in advertising and social media to their business, which has grown this year from two to three country offices, with a new branch opening at Backwell in April. Director Jo Woolley explains, "Mike will be assisting Debbie and I with all aspects of our marketing operation and will be working across all three offices at Wrington, Chew Magna and Backwell. His base will be at the Wrington office and he can be contacted on 01934 862370."
In his spare time, Mike's hobbies include computers, web building and water polo, in which he is a coach and national referee, travelling the county officiating at both local and national level.