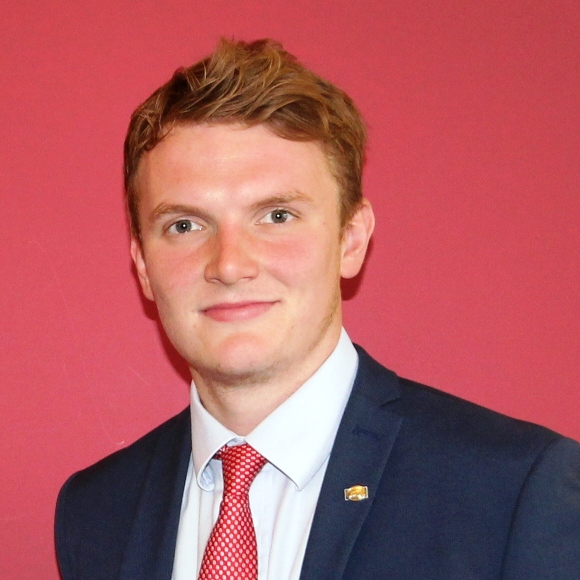 George Worle is 21 and is a senior negotiator at Debbie Fortune Estate Agents in Chew Magna. George tells his story...

"I was 17, in my first year of A-levels at Chew Valley School. All my friends were applying to university as a logical next step in their further education, but I had no interest in burying my head in a book for three years, getting into debt and still having no guarantee of a job at the end of it all. Like many 17-year-old lads, friends, socialising and sport were my main interests and I was, again like many lads at this age, very strong-willed. So I decided to bite the bullet and tell my parents that I didn't want to go to Uni, and after they'd got over the shock they gave me an ultimatum... go to university... or go out and get a job! So my mind was made up... and the real world beckoned."
Debbie Fortune, Managing Director of Debbie Fortune Estate Agents, takes up the story: "I knew George's grandfather well, he was a well-respected architect in the Chew Valley and a valued client over many years.
"He came to see me and told me about his grandson George, who would be looking for a job when he finished his A-levels the following year, and who quite fancied the idea of becoming an estate agent! I was not in a position to offer a trainee position, but as a favour, I agreed to see George.
"I have to admit I didn't expect to be impressed. The last time I'd met George was when I was selling his parents house some 10 years earlier... he was seven years old at the time and particularly obnoxious!
"So when George came to see me as a smartly presented suited and booted young man, bursting with enthusiasm and with a winning smile, I was pleasantly surprised... but I still couldn't offer him a job.
"So for the next year, he pestered me and pestered me until I finally cracked under the pressure and relented!
"The deal was this, if he was prepared to work and train as an apprentice under a National Apprenticeship, he might be able to join us at the end of his training. He was delighted and in September 2014, George Worle joined us at the Wrington office.
"George learnt quickly and a few weeks or so later, we allowed him out on his first viewing... on a little house in Yatton, on the market at £135,000.
"Imagine our delight when he came back with an offer of £132,000. His first sale was in the bag and there was no stopping him.
"As George's career has progressed, his abilities have grown apace, and this week, just four years after he joined us he took an offer on a property at £1.15 million!' says Debbie, ' I could not be more proud of him and wish him every success in his career with us".
George concludes with these words of wisdom: "I would suggest anyone in my position consider an apprenticeship if they can find an employer like Debbie who is prepared to invest time and resources in their training. I feel I have a bright and secure future with Debbie Fortune Estate Agents and I particularly want to thank Jo Tiley, Director in charge of our Chew Magna office who has been fundamental in my progress to date with the company."